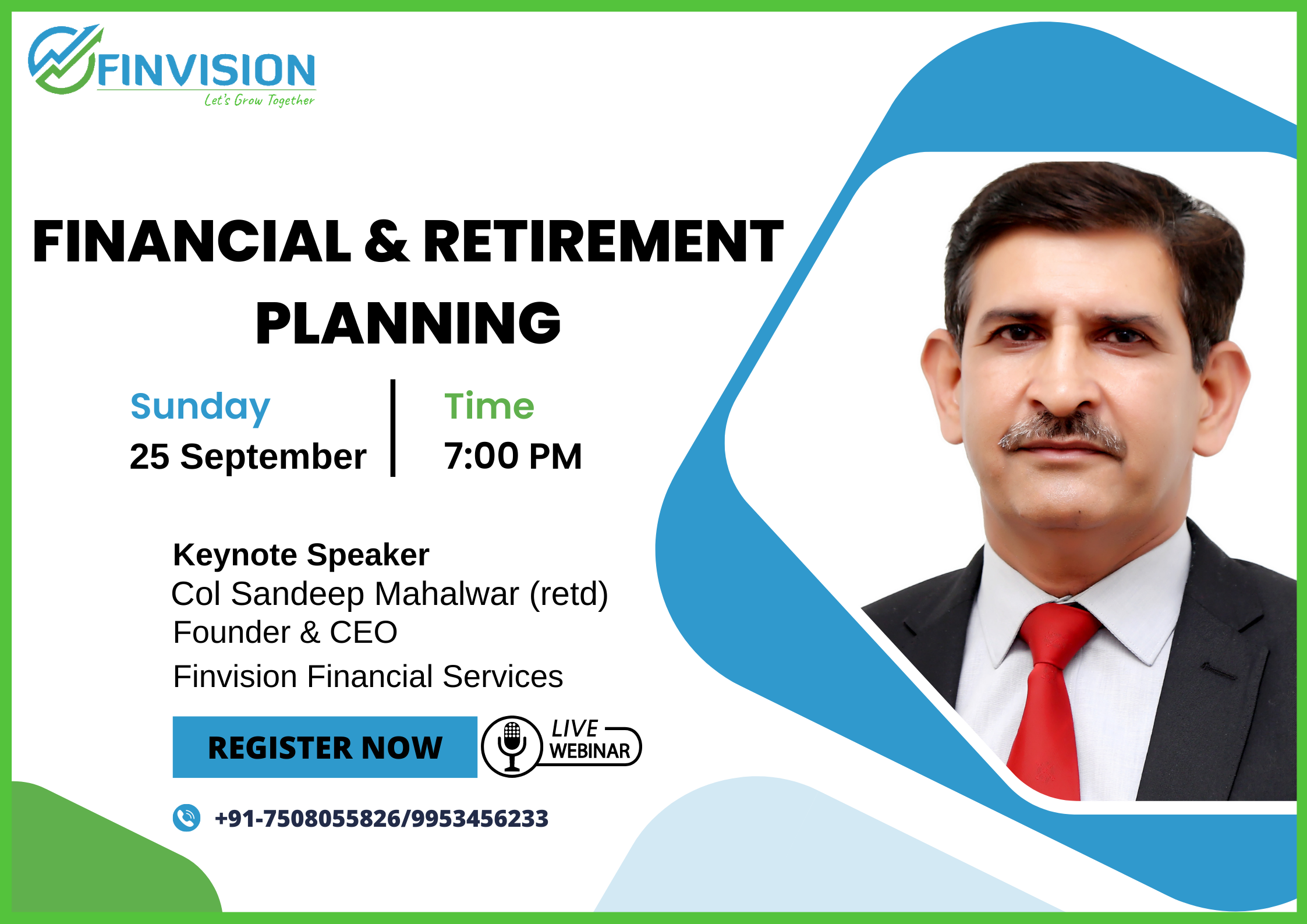 Have you recently retired or retiring soon?

Looking for optimum investment of your retirement corpus?

In a dilemma on commutation of pension?

Worried about your financial health?
If yes, 
We would like to invite you for the Finvision monthly webinar for an insightful session on
"Financial & Retirement Planning"
25/09/2022 (Sunday) at 7:00 PM
Keynote Speaker :
Col Sandeep Mahalwar (retd)
Founder & CEO
Finvision Financial Services
Aspects to be covered in this interactive session are:-
1.Basic concepts of investment & financial planning.
2. Evolution and phases of asset classes and ways to create wealth using right asset allocation strategies.
3. Traditional vs safe modern investment concepts and how to create wealth from home loan.
4. Pros and cons of investments in real estate, AIFs & PMS.
5. Why Finvision 2-Bucket strategy for retirees is the most optimal for your retirement corpus. 
6. Answer to all the queries received in the registration forms.
Col Sandeep Mahalwar (retd) is an Ex NDA(Bravo/88) June 1996 commissioned Officer. He is BSc, MSc(Defence Services Staff College), MBA Finance and an IIM Ahmedabad alumni.
As the founder of Finvision Financial Services, he brings over 20 years of financial planning, budgeting and investment services experience. Under his expert guidance Finvision is managing multi-hundred crores investments for 1000+ fraternity HNI investors and delivering best in industry risk-adjusted returns. With his experience & expertise in the wealth management, he will be delivering invaluable insights in this session. So, don't miss this golden opportunity to attend this important webinar and also invite your friends in fraternity.
Register here to Join us on 25th September  Sunday @ 7:00PM: https://forms.gle/yXXn7Z17Z3y8Rm5h9
For any assistance please contact at 9953456233 or at 7508055826