In continuation to our last week blog where we talked about importance of investing. In this blog let's understand what should you do before you start investing.
The most important prerequisite to investing is having an Emergency fund.
What is an Emergency Fund? As the name suggests, an emergency fund is a fund that you can dip into, in case of an emergency. Since life can be unpredictable, thus preparing for the unexpected with an emergency fund is essential. This fund would help you tide over any health, accident and job loss etc type emergencies.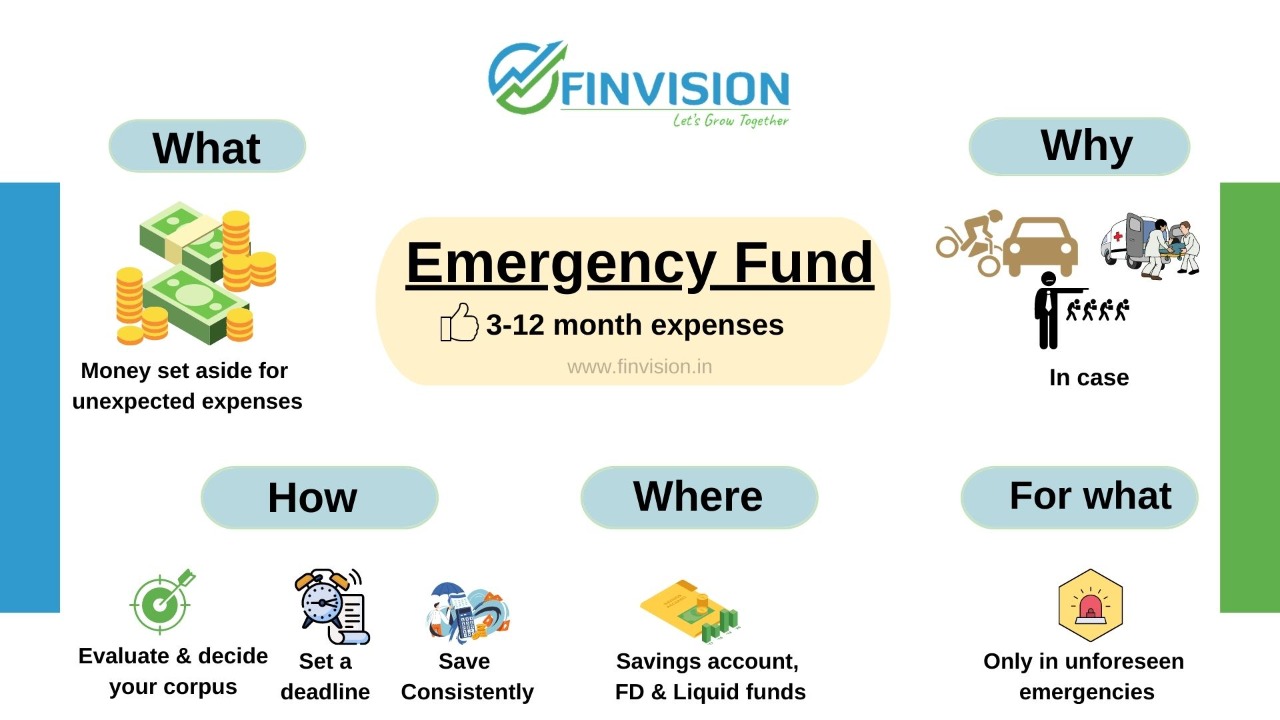 How much should your Emergency fund be? As a rule of thumb, amount should be between 3-12 months of your monthly expenses. For example, if your monthly expenses are ₹50,000, ideally you should have a minimum of ₹1.5-06 Lakhs parked in your emergency fund. The exact amount shall depend upon the type of job and the security of the stream of income you have. For example, in case of defence service officers and govt jobs an emergency fund equivalent of three months expenses should suffice.
How to Create an Emergency Fund? Once the emergency corpus amount is decided, the following simple steps will help you build this fund:
1. Have a deadline to create this corpus: It can be three months or six months, or one year, on the basis of your financial position: set up a deadline and start your investments.
2. Evaluate your assets: You can use some of your existing assets and investments to start building your contingency fund. Any extra cash lying in your bank account can be a good start for this fund.
3. Calculate your monthly commitments: Based on your corpus requirements and existing cash position, calculate the monthly contribution that you have to make towards building this corpus.
4. Separate your emergency fund investments from your other investments: Do not mix your investments. Strictly keep your emergency investments separate. No matter what, do not stop your investments or withdraw money for unnecessary expenses.
Any lump-sum amounts received should be channelised into your emergency fund. For instance, your pay & allowances arrears or a year-end bonus etc. Invest the lump sum amount into an emergency fund to create the required amount of corpus.
Where should you keep it? Divide it between the most liquid options- cash, savings account, fixed deposits, and liquid mutual funds. Out of these, cash and balance in your savings account are the most easily accessible. So it is wise to keep almost half of your corpus in these two places. Though these will not give any significant returns, but that's not the objective here. The objective is to have access to money instantly. For the other half portion, FD and Liquid mutual funds should be the preferred choice to get some returns on this corpus. This way, by spreading your emergency fund across different avenues, you can ensure quick accessibility while enjoying some returns.
When to use it? An emergency fund is not for you to replace a carpet or book a vacation. It is truly, and only for emergencies. Having an emergency fund gives you the confidence and stability you need to help make bolder decisions on your long term investments to grow and create wealth.
Remember the goal of having an emergency fund is to have that amount available as and when you need it. Thus, it isn't wise to keep this amount in volatile assets like stocks.
Hope you have calculated and catered for your emergencies? For any help, contact Team Finvision.
Hope the blog was useful. Do share it with fraternity for others to benefit and may like to subscribe to our Newsletter and follow us.
Happy Investing!