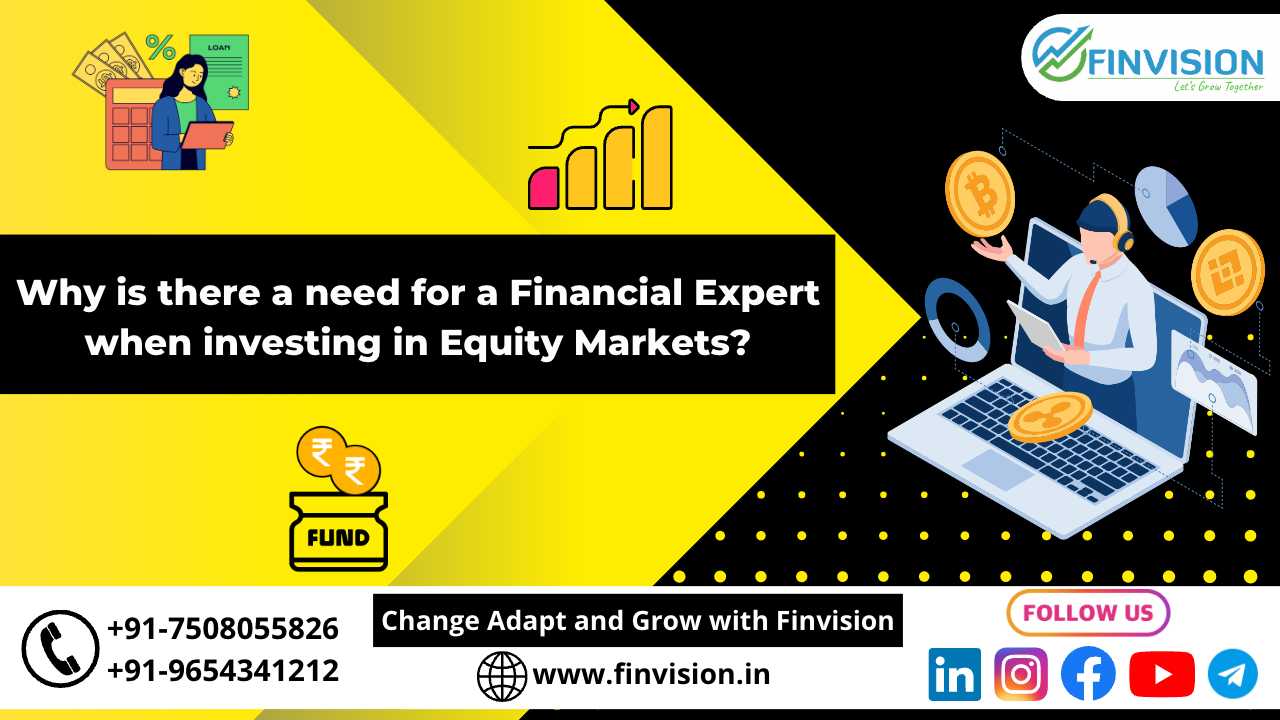 "Risk comes from not knowing what you are doing!"
The current geopolitical, fast changing and dynamic economic environment could be the perfect time for you to get associated and work more closely with a trusted, ethical and informed financial advisor. Here are some of the aspects where, we at Finvision, can stand out, truly add value, and help you achieve your financial goals early and in style too.
1. Keeping you focused for the Long Term: In the short run, news and events drive the markets. Such scenarios dissuade investors from holding onto their investments for a longer investment horizon. Thus, to guide you through the ups and downs in your investment journey, #TeamFinvision can play a crucial role.
2. Investing as per your Risk Appetite and Risk Tolerance: While both terminologies tend to be used interchangeably, both are actually different.
– Risk Appetite is the amount of risk that investors are willing to take in order to achieve their investment objectives.
– Risk Tolerance refers to the amount of loss an investor is prepared to handle while making an investment decision.
More often than not, retail investors misjudge their risk appetite, leading them to make inappropriate investment decisions. Against this backdrop, consulting us could be a wise move, and we will assess and invest strictly as per your risk tolerance and make realistic investment decisions.
3. Help you define and set financial goals:
"Investing without an investment objective is like a traveling without a destination!"
We at Finvision, will take various factors into account when conducting an in-depth assessment of your financial situation, and shall help you set specific investment goals. For example, you may want to save for retirement, or pay for your children's education, or accumulate wealth over a specific time horizon. In that light, we will help you prioritise your goals, and establish an investment plan to achieve them.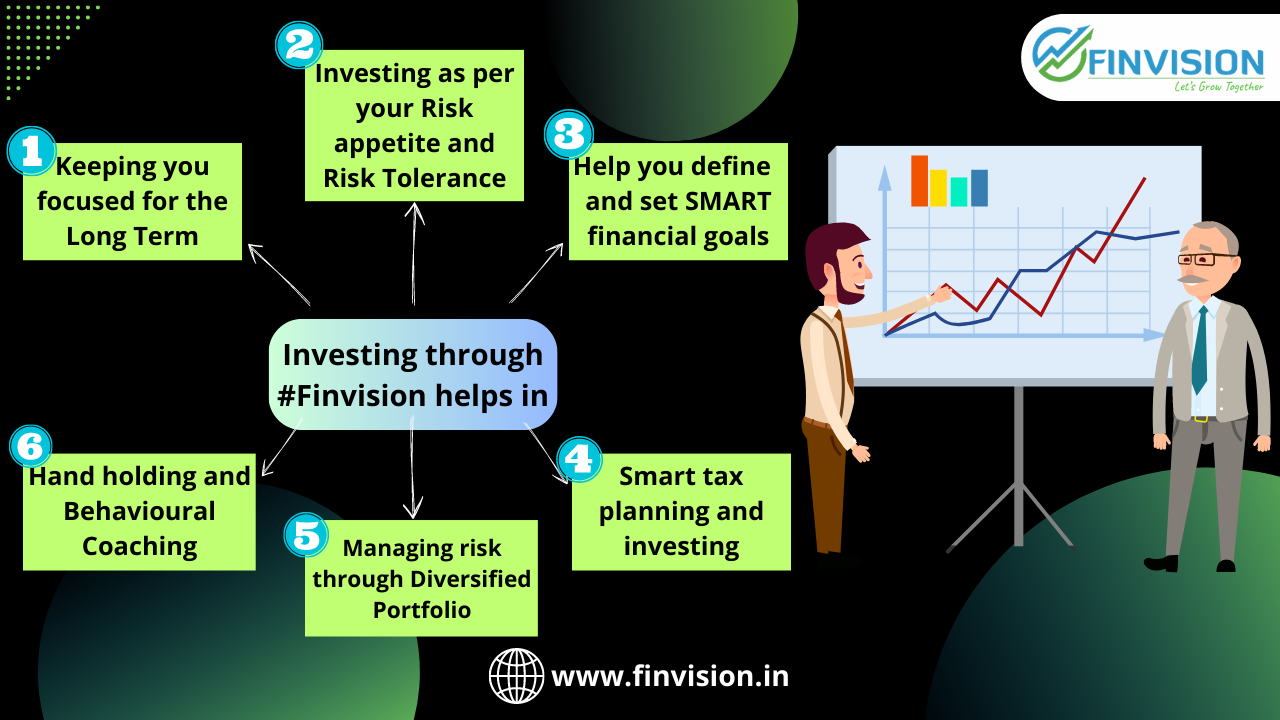 4. Smart Tax Planning and Investing: For an investor the real (post tax returns) is what actually matters, for which investing in a tax efficient manner and realigning the portfolio for better growth once the taxation on returns gets optimised are of utmost importance. Especially, when there are IT provisions that provided for it, why should you be paying extra in taxes. This is where we can add maximum value.
5. Managing risk through Diversified Portfolio:Diversification is a key to reduce the overall risk of an investment portfolio. This is done by allocating within each asset class and across multiple asset classes. At the same time, while diversification reduces the risk, over diversification leads to underperformance, hence right asset and sub-asset allocation is the most important key to portfolio returns. Though, the concept sounds easy, assessing the quantum of allocation and timely rebalancing the portfolio can be a tedious process for investors.
Against this backdrop, we can help you create a portfolio that aligns with your investment goals, risk tolerance, and time horizon. Thus, serving a balanced portfolio designed to achieve long-term growth.
6. Hand holding and behavioural coaching: With the ever dynamic and continuous advent of new products, regulations, macroeconomics and ever evolving market trends. Keeping up with these developments and realigning the investments with the same can be extremely challenging, especially for the armed forces investors posted in not so well connected areas, engaged 24×7 and not well versed with the market and investment environment. This is the most important aspect and our USP, where we at Finvision shall help you stay informed about all the developments, understand the impact on your portfolios/ investment strategy, and accordingly, guide you make more informed investment decisions.
To Sum up:
Investing and getting associated with us at Finvision Financial Services can go a long way in your investment journey and help you remain focussed for the long term, realise true compounding in investments and achieve your financial objectives early and in style.
Contact with us today, for all your smart and customised Financial/ Retirement Planning, Investment, Insurance and Tax optimising needs.
+91-75080558326/ 9654341212 or Email us at info@www.finvision.in