Myth#1: SIP investments are only meant for small investors
Since SIP investments can be made for an amount as low as ₹500, investors tend to think that this investment instrument is meant for only small-ticket periodic investments. 
Fact: The amount of monthly investment depends entirely upon your budget. Through a higher SIP installment, you will be able to build a large corpus over time and meet your long-term financial goals.
Myth #2 You should only invest in SIP in a bullish market
Many investors tend to be very sensitive to market movements. So, when the market starts showing a downward trend, they stop fresh investments in fear. 
Fact: The best part about SIPs is that they need not be planned based on market highs and lows. All you need to do is to continue investing, and SIPs will perform their job. The enclosed illustration of an investor's investment journey in one of the MF schemes using SIP mode proves that SIP instalments done in down-trending market phases contribute more in wealth creation.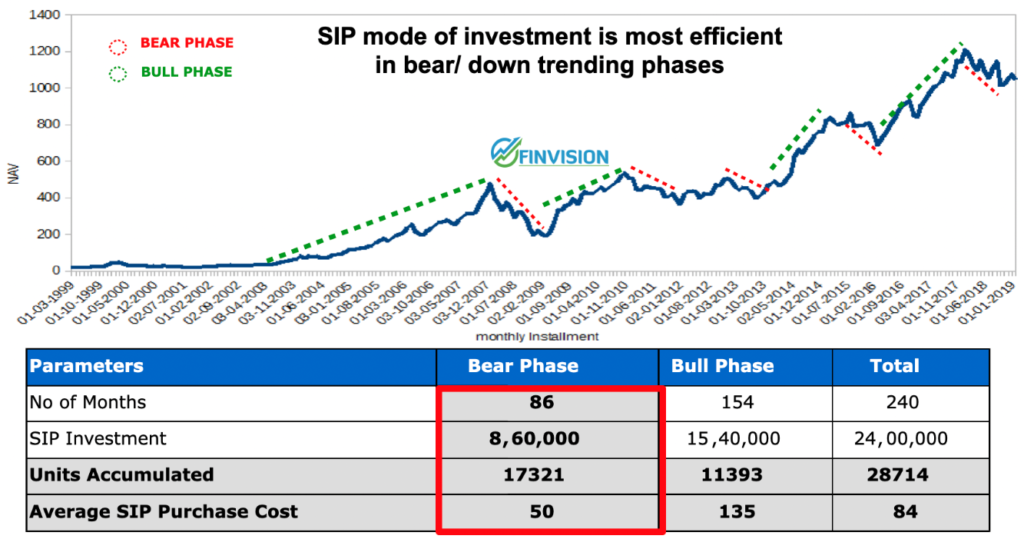 Myth #3 The SIP tenure and amount cannot be modified
A common myth amongst investors is that once you have chosen your investments, you cannot make any changes to SIP. 
Fact: SIPs offer complete flexibility and the SIP amount, tenure, and even the MF scheme can be modified anytime in the future.
Myth #4 SIP guarantees positive returns
Some investors believe that because SIPs in mutual funds give better rupee cost averaging, they offer guaranteed returns. 
Fact: Not true, because SIPs are market-linked instruments, and as such, the returns are not guaranteed. However, for  long-term investors, SIPs do offset market volatility and provide capital appreciation.
Myth #5 SIPs invest only in equity markets
Some investors believe that SIP investments can be only in equity funds.
Fact: Neither true nor necessarily something to fear. As equity funds are only risky/volatile in the short term and offer high returns in the long run. Moreover, a high-performing portfolio should always have a mix of equity (large/mid/small caps), debt, and gold among others. The proposition of the same should be chosen strictly based on your personal investment goals, risk profile, investment horizon, and other requirements.
Key takeaways:
With most common myths out of the way, you can be rest assured that the best SIP to invest in is the one that meets your specific investment requirements.
To help you make an informed decision, FINVISION offers you personalised solutions. Simply contact us at +91-7508055826/ 9654341212 and we will help you in building your unique portfolio.