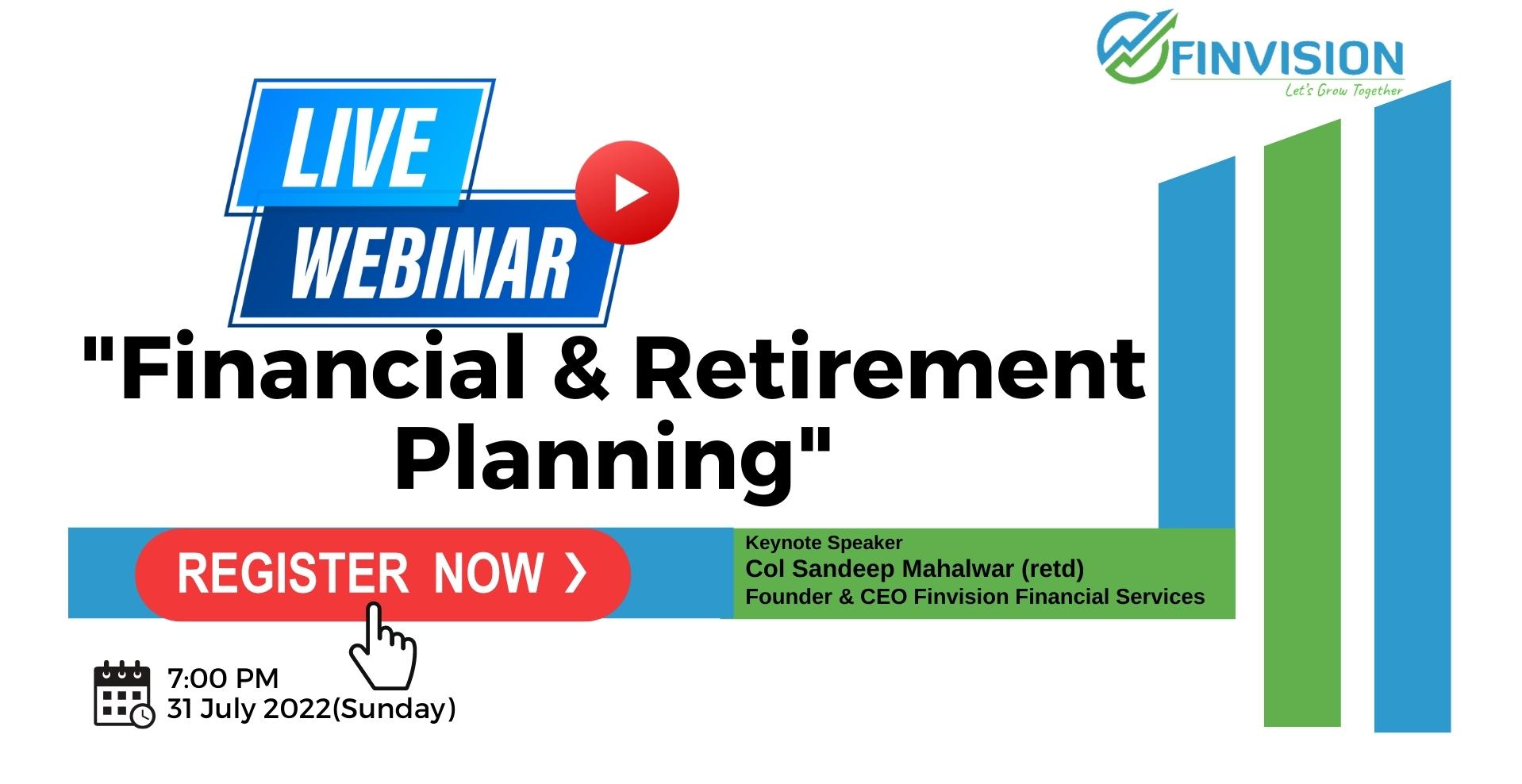 This Sunday, 31st July, 2022 join us for an insightful Financial Awareness session with Col Sandeep Mahalwar (retd), Founder & CEO, Finvision Financial Services, on the topic
" Financial & Retirement Planning"
31/07/2022 (Sunday) at 7:00 PM
Keynote Speaker :
Col Sandeep Mahalwar (retd)
Founder & CEO
Finvision Financial Services
Aspects being covered in this session are:-
1. Basic investment concepts & importance of financial planning
2. Evolution of investment assets & phases and their cycles of performance
3. Optimum ways to manage finances while in earning phase and post retirement
4. Comparative analysis of investment in real estate, AIF, PMS & structured product
5. Traditional Vs safe and smart modern investment concepts
6. Investment strategies that work and investment options in current inflationary environment
7. Why Finvision portfolio is most suited for your retirement corpus
Col Sandeep Mahalwar is an Ex NDA(Bravo/88) June 1996 commissioned officer. He is BSc, MSc(Defence Services Staff College), MBA Finance and an IIM Ahmedabad alumni.
As the founder of Finvision Financial Services, he brings over 20 years of financial planning and Investment services experience. Under his guidance Finvision Financial Services is managing investment portfolios of 1000+ fraternity HNI investors and generating outstanding returns.
With his experience & expertise in the wealth management industry, he will be delivering invaluable insights in this session. So, don't miss this golden opportunity.
Register here to Join us on 31st July Sunday @ 7:00PM: https://forms.gle/dbewrJ2Xn6rjkzYZA
For any assistance please contact at 9654341212 or at 7508055826