Early retirement is something that we all aspire for. However, in the absence of social security, lack of adequate savings towards retirement and the uncertainty of the finances makes retirement planning very challenging. Your retirement kitty, irrespective of where you save it, remains at the risk of being exhausted in old age. The ultimate goal of a robust retirement planning therefore is not only about earning the highest investment return, but also be able to peacefully meet every post-retirement financial goal. It is crucial to have a regular flow of income to pay for essential expenses and not become financially dependent on others. 
Options for retirement solutions?
The popular and preferred options are:-
1. SIP/ STP from debt funds into MFs as a tool for wealth cr
eati
on and thereaf
ter doing a SWP from MF to get regu
lar monthl
y 
income: Good, however not everyone is comfortable with the associated volatility and risk.  
2. NPS, PPF, EPF and Atal Pension Yojana: Helpful but inflexible and constrained with limits on the maximum amount.
3. Annuity Plans: Lifetime assured income products and are not market-linked.
What is an Annuity Plan? As the name suggests, these help you to get regular payment for life after making a lump sum investment. What actually happens is that the life insurance company invests your money and pays back the returns generated from it to you as payouts when you retire. So if you are looking for guaranteed income in your sunset years, you must opt for such a plan without a doubt. As by design, they protect you against the risk that you may live longer and exhaust your resources. 
In a way, Annuity Plan and a Pure Term life insurance plans complement each other. Wherein, a Pure term insurance covers the financial risk of 'unexpected death' leaving the family without any financial support. An Annuity plan, on the other hand, covers you by providing adequate financial resources if you continue to live long!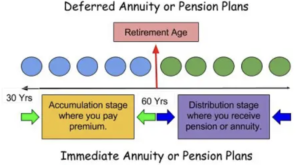 Types of Annuity Plans: Depending on when you buy them, annuity plans can be divided into two different categories: 
1. Deferred Annuity: A deferred annuity plan allows you to either pay a lump sum or in instalments to build a corpus over a specified period and defers the payout until you retire. Once you retire, you start receiving monthly income as a pension on the invested corpus. The most important benefits to investing in deferred annuity plans at the right age is that you can lock-in the future rate of interests without worrying about the drop in the rate of interest a few years later.  To illustrate: if you are 50 yrs old and invest a lump sum of ₹50 lakh in a deferred annuity plan. Once you turn 60, you will start receiving ₹44,900 as monthly pension for life and on your death your financial dependents shall receive all the invested amount as lump sum i.e. ₹50 lakh. 
2. Immediate Annuity: In this instead of paying a number of premiums for a predefined time, you invest a lump sum amount with the insurer and the insurer pays you a regular guaranteed payout for life. An immediate annuity plan is the best buy for someone who has recently retired and has a corpus ready to make a one-time investment and start receiving a monthly income right away. To illustrate: If you invest ₹50 lakh for buying a plan that covers you and your wife (joint cover), from the very next month of investing your money, you will start receiving a pension of ₹25,480 and that will continue until any of you are alive. 

Post the death of both(you & wife) your dependents will receive the entire invested amount i.e. ₹50 lakh as a lump sum.
Is an annuity plan a good investment option?
Yes, the annuity plans are amongst the most trusted sources for a guaranteed fixed income and offer the following advantages:-
1. You can buy annuity plans at any time in your life. While some may buy as they approach their retirement age as they may have investment corpus ready, others may choose to invest during their mid-career. 
2. You can lock-in the rate of interest on your annuity plan and thus eliminate the reinvestment risk. With the decreasing interest rates regime, having a product that guarantees you income for life on the same interest rate becomes pivotal. Compare this with FDs where the interest rates have fallen from 8.5% in 2014 to 5.4% in 2021. For anyone, who had an FD of ₹10 lakh with an interest of say ₹7100 per month, will now get ₹4500 per month or even less if the rates fall further in the coming years.
3. There are no investment caps on annuity plans. This is unlike the other schemes such as the Senior Citizens Savings Schemes, in which you can invest only ₹15 lakh and the Post Office MIS, where the maximum investment is capped to ₹4.5 lakh.
4. Annuities give you the promise of stable income at better rate of interest with lot more features and payout flexibilities. You can also add other family members too, where your family member /spouse will receive the money after you. Some plans also offer you to receive lump-sum amounts after a certain periods, add top-ups, and death, critical illness, permanent disability benefits, etc. 
How much will you get? The ROI or return on investment on annuity plans often depends upon whether it is an immediate annuity plan or a deferred one and the duration of delay before the start of the annuity. Presently these are offering between 5.5-6.5% for immediate annuity plans and up to 11.50% plus for deferment period. The longer the deferment period, the higher would be the promised returns. You can smartly create a smart ladder of multiple annuity plans too where your annuity income would increase /grow after every few years! Given an opportunity, we would be happy to work that out with you.
Choosing An Annuity Plan:

1. Annuity plans, should not be seen as a substitute for mutual funds as both are very different in nature and have their own reasons to buy. A smart investor would club both these together by contributing a part as a lump-sum in annuity while the remaining portfolio will continue to grow in MFs and will be freely available. You can even continue with your SIPs, while annuity will give the guaranteed cashflows, your mutual fund investments/SIPs would work at building your wealth.
2. They cannot be compared with traditional insurance plans which mix insurance benefits with investments. These are designed as cash-flow oriented plans and hence are a different breed altogether.
3. Like any other financial product, the key parameters for selecting the right annuity plans should be safety, returns, and liquidity(SLR) as per your specific financial goals. We strongly suggest that if you are planning for retirement, do explore the annuity plans. They score over many traditional, government schemes and even the debt funds on many points.
To Sum-up:
The reasons why an annuity plan is an option worth choosing:
1. It offers you a fixed income for the rest of your life, which means financial freedom for your sunset days.
2. You have the flexibility to choose a monthly, quarterly or yearly payout mode.
3. A smart investor can make use of the existing tax provisions to receive the income as tax free.
4. Flexibility to choose between options and no limits of investments.
Where can you buy an Annuity Plan?
There are a myriad of companies offering these plans. However, before buying any annuity plan, do your due diligence and go beyond the product features or better to consult a good financial advisor. For us, the elimination of uncertainty and having a guarantee in your sunset years wins the argument.
Do contact us to serve you the best and most optimal solutions for your  financial, investments & insurance needs and requirements.