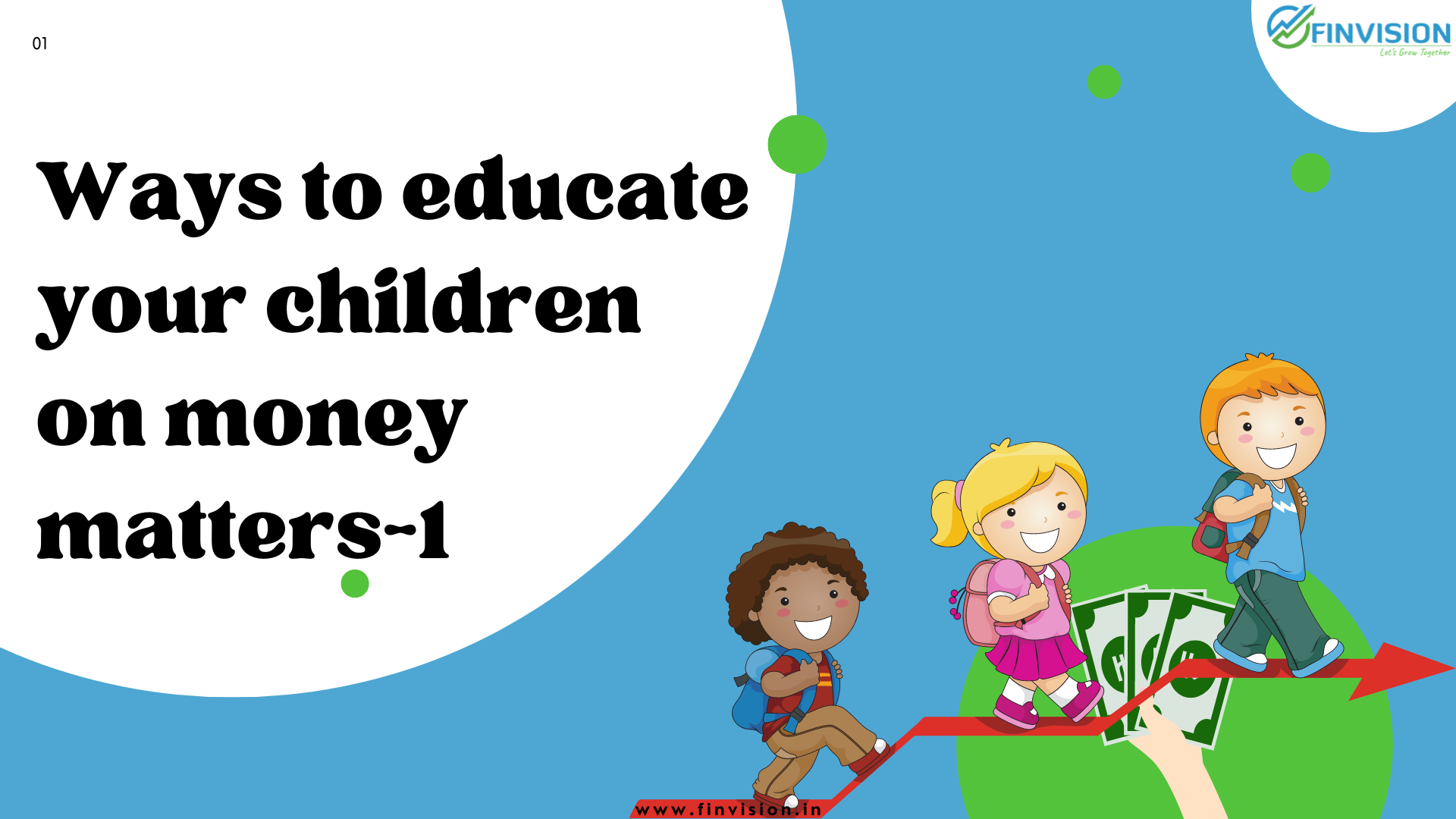 As a parent, you would always want the best for your children. This doesn't necessarily mean that you want them to have only the best gadgets, toys, shoes and clothes. Most likely, it means you want them to be safe and secure. Now if that be so, then the foundation should be laid at the earliest age for them to build upon and do well in life.
Here are a few ways to help you go about teaching money maters and good financial habits to kids.
Age 5 – 10 years: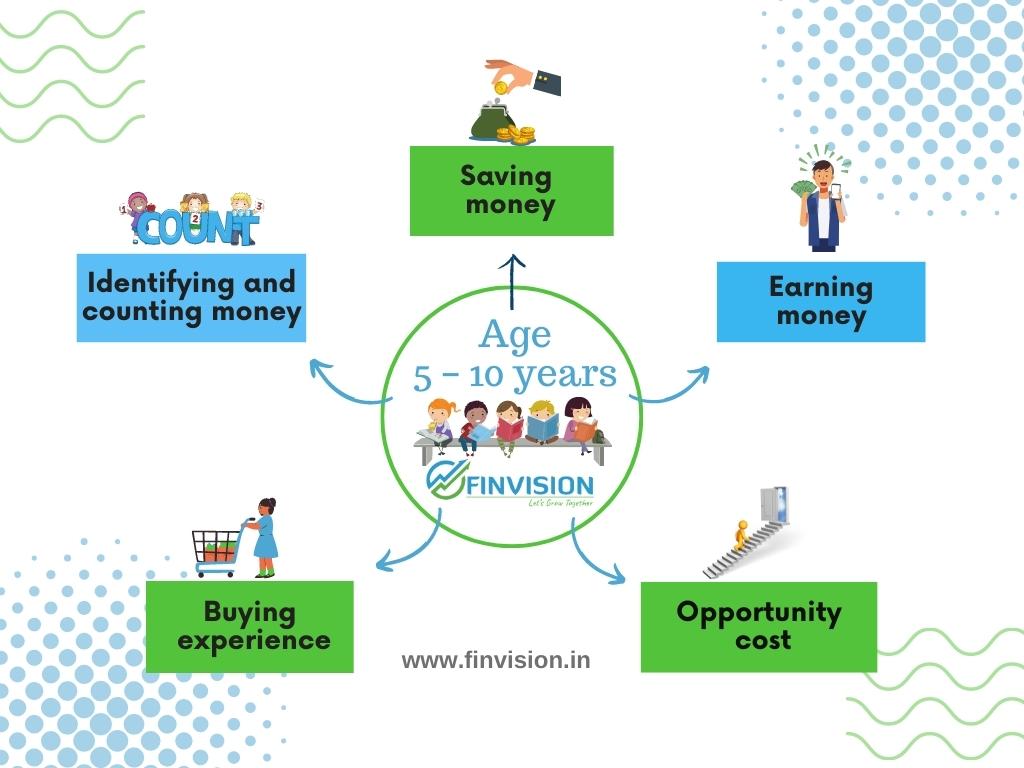 Identification and counting of money: Introduce them to different currency denominations and help them identify, sort and count money.
Saving money: Get them a see through piggy bank or a clear jar to keep their money. This will enable them to see their money grow and reinforce the benefit of saving.
Earning money: Consider rewarding few of their works with money. Like getting good grades, building good habits, etc.

Buying experience: Take them to the market and help them in making few purchases own their own.
Opportunity cost: Teach them to choose between two alternatives. Like: if they buy a particular toy or gadget, they won't be able to buy those shoes. This will help restrict impulse buying.
Age: 10-18 years: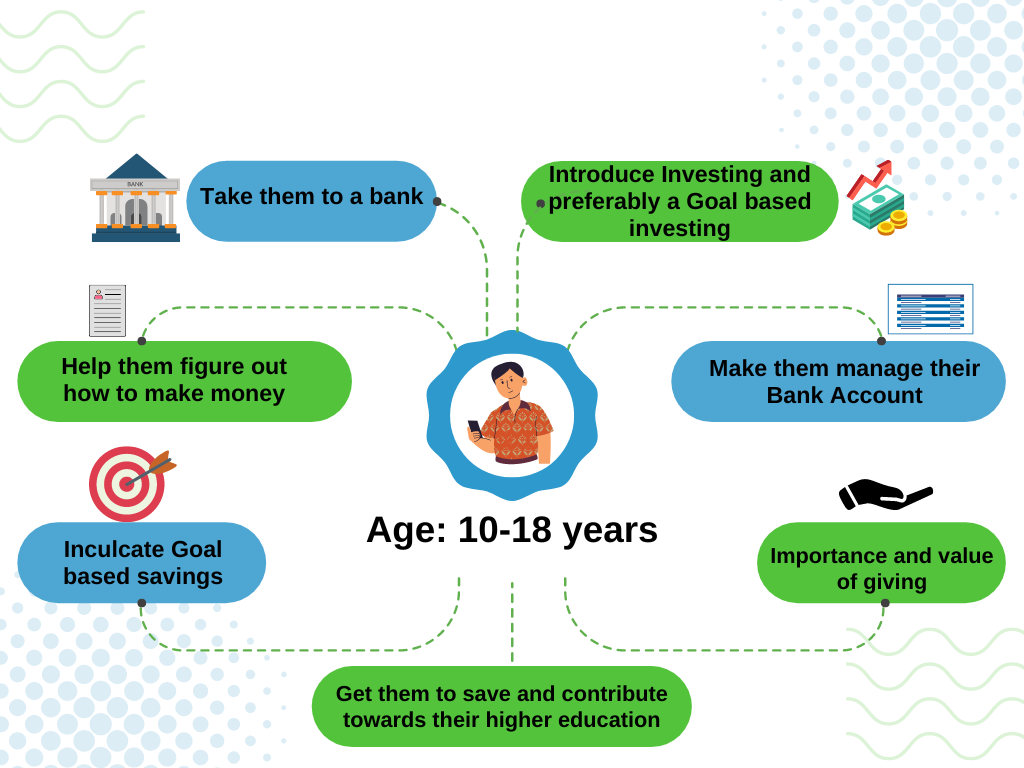 Take them to a bank: Show them what a bank is and how things work. Open a savings account for them under your guardianship.
Inculcate Goal based savings: Help them set their own financial goals for which they would need money, also teach and guide them to save accordingly for those goals.
Importance and value of giving: This is the right age to teach kids to help the needy and less privileged ones. Let them choose the cause they want to support and allow them to contribute in their own way.
Make them manage their Bank Account: Start by transferring their pocket money to their bank accounts. Make them manage their own bank account through debit card, Paytm, mobile Banking or even visiting the branch.
Introduce Investing and preferably a Goal based investing: Introduce them to the basics of investing and start in a graduated manner by investing for them through SIP mode with you as a guardian.
Get them to save and contribute towards their higher education: Firstly through savings and investing and then through scholarships.
Help them figure out how to make money: Instill an entrepreneurial spirit in your kids by teaching them how to make money. For example: Starting a side job. Especially. if they are skilled at something, this will help them learn important financial skills.
Do Remember: In addition to all the above, the most important factor will be how you model good financial behaviour when you're around them. For your children to develop good spending and saving habits, they need to see you making smart spending and saving choices. In short, practice what you preach and preach with consistency. Educating your children about personal finance is a process that can take time. But if you put in the effort and continuously communicate a clear message about money, you will instill good habits that will serve your children well.
Want to know the things to do when your child turns 18 and the smart tips for their financial planning? Subscribe to our YouTube Channel and look out for our next video on the same: https://www.youtube.com/channel/UCW-avyIZvPg2meoXk3X4nQA
Found the Blog useful ! Don't forget to share your feedback and share the link with friends and fraternity.

For all your smart and customised Financial/ Retirement Planning, Investment, Insurance and Tax optimising needs contact #TeamFinvision